One Byte Cafe: Discussions With a Pirate
---
So there is this fellow I know, Henry Every, and he is a pirate. He has modded all of his game consoles to play backups, homebrew, and imported games. We met the other day during my lunch hour and we had a pretty interesting discussion about how pirating has really hurt the way he enjoys his games.
There are many types of Pirates, but Henry is just a 'user' instead of someone trying to make money off of it. This doesn't excuse his actions, but this gives you an idea of who he is and what he does. Henry doesn't rip copies of games and upload them to the Internet; he explains that his actions are more of a game rental service if anything.
So what made him turn to piracy? His first step into piracy was his Gameboy. Henry hated to buy a game based on a review get it home and then hate the game. He says that he despised trading in a game since the stores won't give you squat for the game when you sell it to them, but then they want to turn around and sell the used game just a little under full retail price. So Henry wished there was a game rental service for Gameboy, but at the time there were none. So Henry stepped into the world of piracy because this was the only way he could try it before he decided to buy it. He never did buy a game for himself after that.
Now, Henry no longer cherishes his games as much as he did before becoming a pirate. Like most pirates, Henry was not a rich man so when he chose to buy a game he made sure to read reviews before a purchase. He would excitedly watch for new screenshot or videos that may be released for the software of interest and all the while he would be saving his money.
I can see where Henry is coming from. When I purchased The Legend of Zelda: The Wind Waker, I was very excited to play the game but midway through I lost interest and put the game back in the case where it stayed for months. When I was in a gaming drought, only then did I reach for Wind Waker and play it through until the end. I'm glad I decided to, because this unique Zelda adventure was interesting enough to stay in my mind for a long time to come. A pirate would have had countless of games to choose from and I probably would have never returned to complete Wind Waker. That would have robbed me of that experience.
So is there a moral to this story? I wasn't shooting for one, but I thought this was a damn interesting take on the situation. Will Henry ever give up his life as a pirate? Maybe he will, but who knows for certain.
Piracy has been around for ages and I really doubt it is going anywhere fast. But, I want to go on record to say that pirating software is not a good idea and you are only asking for trouble if you do it. Homebrew is just the gateway drug into piracy and once you dabble in homebrew you may move to hard stuff, so stay away from that as well. Playing imports is awesome, but many home consoles still have a hard time playing games from other regions so this is not always worth the trouble.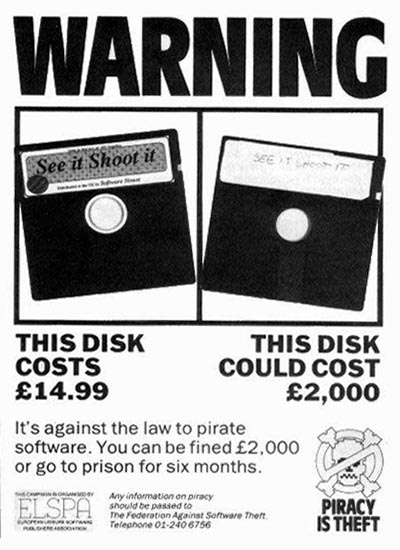 This may be going out on a limb, but I bet Henry never would have become a pirate in the first place if the situations were right. If he always had access to try games, then would he have been less likely to steal them? This makes me think that a future of all digital distribution could really help curb piracy. It seems that it is right around the corner and if and there were a way to digitally rent a game, then I see many people leaving piracy behind or not even picking it up to begin with. The concept behind this theory is to make it easier to get your hands on a legal copy than it would be to perform all of the steps necessary to start playing illegal copies.
Almost a year ago, Valve's Gabe Newell went on record to say, "We've got great facilities that make it very hard for people to pirate, and more importantly, the service value of having an ongoing relationship with us is high enough that it causes people to not be very interested in piracy". Gabe Newell seems to think that they can offer more to consumers than piracy can offer them. Also at that same conference they also talked about when games are released at different dates throughout the world that this can also raise the rate of piracy in nations that would be getting the game later than others. And I believe it.
Basically, the gaming world can be more consumer friendly instead of consumer controlling. Offer us more demos and if you don't want us to try it for free, then offer us some sort of rental service. Offer us the ability to download any game instead of driving to the store to get it and make sure our systems have more than 512Mb of internal storage, or at least make sure it is upgradable similar to what you can do with the hard drive in the PS3. Offer us an easier way to download games like Zeebo plans to do (connecting free to 3g networks), for those of us who don't have fast internet access.
I don't think these ideas are too far off as we are already seeing a lot of downloadable games, extra content and I feel that all-digital distribution is just around the corner. I don't believe digital will replace brick and mortar stores, but it will definitely become one heck of a contender.
Will piracy ever die? Heck no it won't. Piracy has been alive and well since the dawn of time. Piracy will never go away, it will only evolve. I could see piracy evolving in a way that it doesn't run rampant through the video game world like it currently does in some countries.
We are on the precipice of change and man is it exciting.